FONTE: BLOOMBERG

Kroton's Takeover of Estacio Collapses With Agency's Rejection
By Mario Sergio Lima and Fabiola Moura
Cade nixes the $1.8 billion education merger by a 5-1 vote

Deal aimed to create education giant with 1.5 million students
Kroton Educacional SA's proposed $1.8 billion acquisition of its biggest rival in the education business, Estacio Participacoes SA, collapsed after Brazilian antitrust regulators rejected the deal in a six-hour meeting.
The 5-1 vote by Cade means the agreement is canceled. The decision frees both companies, which had separately done as many as 40 deals in the past, to look for other merger-and-acquisition opportunities.
While the concentration that would have resulted from the deal wouldn't be worrisome by itself, the scale of the new business would have harmed the ability of smaller operators to vie with the new 1.5 million-student behemoth, Laureate Education Inc.'s lawyer Olavo Chinaglia said. Laureate took part in the process as an interested third party.
Kroton was willing to make divestitures that, if combined, would have created the fourth-biggest education company in the market, according to Barbara Rosenberg, a Kroton lawyer. The company said in an emailed statement it made every effort to complete the deal and would respect Cade's decision.
Both companies will keep their separate operations and will remain listed at Brazil's stock index. Kroton gained 5.7 percent to 14.16 reais at the close. Estacio fell 0.7 percent 14.70 reais.
Cade Counselor Cristiane Alkmin, who voted to approve the deal, had sought restrictions such as the sale of distance-learning unit Uniderp and the sale of Anhanguera assets equivalent to 258,000 students.
With the $1.8 billion deal in jeopardy, Kroton Chief Executive Officer Rodrigo Galindo had bolstered efforts to gain approval in the weeks leading up to a regulatory decision, hiring an all-star team of former antitrust regulators and a prominent former official.
The ambitious 41-year-old, who oversaw Kroton's transformation into the world's biggest for-profit education company, assembled an entourage so large it couldn't fit into the meeting room at the offices of Cade, requiring attendees to take turns at the table, according to two other people with knowledge of the gatherings.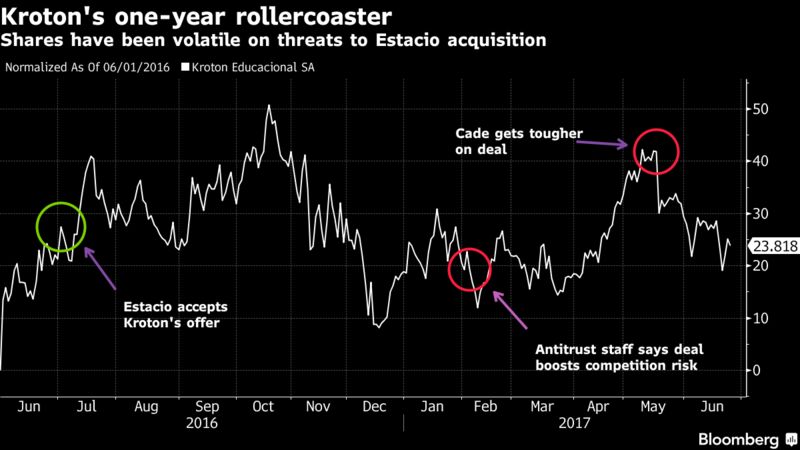 Kroton and Estacio shares have been volatile on speculation the antitrust body would reject the deal or apply such severe restrictions that it's no longer palatable. JPMorgan analysts Marcelo Santos and Andre Baggio recommended buying Kroton if the deal fails and the shares drop.
"Cade set the bar for a new merger with this decision," Joao Paulo Resende, one of regulators voting to reject the deal, told reporters after the decision. "If a deal has to be mended with several remedies that may not be enough to repeal competition concerns, it shouldn't pass, and companies have to be aware of that beforehand."
Kroton and Estacio together submitted about 40 potential concessions to the antitrust regulator, according to Thiago Brito, a lawyer for Ser Educacional SA, which also made a play for Estacio last year and was part of the Cade process as an interested party. Brito asked for the acquisition to be rejected.
https://www.bloomberg.com/news/articles/2017-06-28/brazil-education-behemoth-fights-for-1-8-billion-deal-approval